Biography of AAHS Co-Founders, Debra Lopez and Shelley Abrams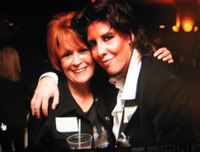 Shelley Abrams( left) and Deb Lopez (right), didn't know each other but both had the same passion and determination to help horses. When they were brought together on alexbrownracing.com, a web site inspired by Barbaro, they joined forces to lead a grassroots movement to end the slaughter of American horses. It was through this movement that American Against Horse Slaughter was born.
***********************************
Shelley Abrams, a resident of Yardley, PA owns and races thoroughbreds stabled at Philadelphia Park .She has been a relentless campaigner to end the brutal slaughter of American horses for human consumption overseas. Her passion has led her all the way to Washington DC and today has transpired into leading her own crusade to help save our American horses from slaughter.
She launched a program called "Horses Helping Horses" under her Smarty's Gift Stable, which donates a percentage of any winning purse to rescue a horse from slaughter. So far, earnings from her star "Mr. Boxcar" in conjunction with Friends of Twilight have contributed to the rescue and transport of several thoroughbreds who would have been headed to slaughter. True to her passion, Shelley has helped to establish, and, will be a Board member of an in house program at Philadelphia Park to place thoroughbreds whose racing careers are over. This new program has been created with the hope that it will inspire other horseracing tracks across the country to do the same. It is expected to be launched in May 2008.
***********************************
Debra Lopez has also been a thoroughbred owner. Her passion for music and animals has led her to fight for animal safety and welfare as well as launch her own charity. Animal Fairy Charities best describes itself as the "United Way for Animals". "Once an animal is rescued, the costs to maintain their food, medical and shelter can be enormous", said Lopez, a resident of Franklin, Wisconsin. The mission of Animal Fairy Charities is to help those who help the animals, and sometimes the best way to raise awareness is through music. Her first Musical Horse Aid brought attention and much needed funds to help support horse rescues around the country.
A song writer and entertainer, watch for Deb's new song "Racing For Time" which is set to release sometime this summer and will be available via download at animalfairycharities.org. All proceeds for this song will be donated to various animal rescues. Deb truly believes that if you have never loved an animal, your soul remains unawakened.